Squadron Leader C. J. Woodward DFC RAF
"My knowledge of the Assyrian Levies convinced me that they are highly skilled, thoroughly disciplined and very brave soldiers, for whom I have the greatest respect!"
Sqrn Ldr CJ Woodward.

Mr. Colin Woodward joined the RAF in 1935. He served in India, Palestine and Iraq.
In Iraq he served in Habbaniya and the Trans Jordan desert with a detachment of Assyrian Levies guarding the H3 staging post near Rutbah Wells.
At the outbreak of ww2 he was sent back to England, being a medical orderly his services were needed.
Latter he started flight training and became a flight instructor. After two years, experienced Pilots were needed for special missions; he volunteered and spent the later part of the war dropping spies behind enemy lines.

He retired from the RAF in 1957 as Squadron Leader. Later he was asked to build an Air Force for Kuwait, which he did and became its Commander and later advisor, he retired as L/Colonel.

WOODWARDS WAR
By Colin Woodward

In 1939 I was in Mesopotamia (now Iraq) working in the Royal Air Force as a paramedic. War started whilst I was there. The British nation was ill prepared for war. There was a grave shortage of trained military personnel. So it became necessary to bring trained men back to Britain from overseas in order to strengthen the forces in Britain and Europe where they were most needed and replace them with freshly recruited men. I had 'signed on' in the RAF when seventeen and was 'called up' in 1935 as soon as I was eighteen. I had served in India, in Palestine during the Arab/Jew war, and in Mesopotamia. Being in the Trans jordan desert at the time with a detachment of Assyrian levies who were guarding the H3 staging post, I did not learn about the war until some weeks after it had started when I visited the lonely desert fort of Rutbah Wells to dine with a very portly Arabised Frenchman. He was the owner of the trading post there and he had a radio.

After dining I returned to the tent which served as both a treatment centre and my personal domicile. Once a month a Valencia aircraft would bring supplies, including my beer ration, which I used to bury in the sand outside my tent to keep it coolish. That night I dug up a couple of bottles to mark the advent of war; it seemed fitting to do so. I must have dug rather furiously because a blister formed between the thumb and forefinger of my left hand. Next morning my hand was already inflamed. Despite every conceivable treatment I could devise, within two days I had a large abscess and a raging fever. I lanced the abscess, took out the centre, packed it with gauze, and passed out. The Valencia was signaled for and I found myself in the Baghdad general hospital. My self-treatment had sufficed, however, and soon afterwards I was returned to my air force base at Habbaniya, near Baghdad. Because of my service experience, I was sent back to Britain.

Three other airmen and I, together with the Arab driver needed to return the car (to Egypt), drove from Baghdad in a large Dodge limousine, crossing the desert and the bandit infested mountains to Damascus, and then on to Cairo, and finally to Alexandria. This took about a week. From Alex I was shipped to Marseilles, and then I journeyed by train to Paris, where I was supposed to proceed to the front line near Dunkirk. The train journey was particularly pleasant: at every stop there were several of the nicest of young French ladies providing refreshment and encouragement. On arrival at the Paris terminal I reported, as required, to the RAF military police. They told me that resistance to the German onslaught had collapsed and advised me to make my way, as fast as possible, to a French port, and to try to get on a ship going to England.

I hitchhiked to Le Havre and found my way to the docks. There was a ship with a sailor at the top of the gangway. I asked whether there was any chance of a lift. He welcomed me aboard, telling me to make my way below, as far as I could go. Down I went, until eventually I could go no further. Well below the waterline I found an amazing scene. The place was crowded. We all stood on duckboards. Along one side there was line of beer barrels. The smoke was dense, the noise intense, the beer free, and thirty-six hours slipped by unnoticed. I next saw the light of day, and the external world, when we were in the Port of London. It was during the evacuation from Dunkirk. The ship's superstructure was badly damaged: I know not how. I was sent on leave while it was decided what work I should do. Having lived in hot climes for three years I was very brown and my mother did not at first recognize me when I arrived home. She and my two sisters and three brothers had not expected to see me. I was the youngest of the family, a survivor of twins, and they all gave me a great welcome.

After two weeks leave, for some months I did medical work. I saw my first dead Germans then: four totally naked magnificent big young blonde haired men, like Greek marble statues, ignominiously laid out for all to see on the concrete floor of the gas decontamination centre at RAF Cardington, which we used as a makeshift mortuary. A poignant, moving sight. In death they did not disgrace their nation, only ours. The bodies were unmarked, quite un-bruised but for one or two tiny blue-pink wounds. A medical officer, seeking souvenirs, dug out a .303 rifle bullet from one. They were a Dornier crew that had bailed out. The invasion scare was at its height, and the Home Guard at its most trigger-happy.

My father was killed at Arras in 1917, two weeks before my sister and I were born. He has no known grave. My mother, alone with seven young children, suffered harshly for many years because of war, and there was much hatred among some of my family for many years for the Germans. I did not share it. But I hated those leaders of men who made war, finding them in all nations, in all times. It may well be that the wives or mothers of those young Germans suffered as my mother suffered, from the war-crazed stupidity of humanity of all races, colors and creeds.

I responded to the appeal made to everyone with medical experience, when off duty, to assist Civil Defense during air raids. The raids on London were horrific. All around seemed ablaze. While waiting for casualties, we would put out incendiaries. One night a companion and I were on this task. Everywhere we looked incendiaries were spluttering viciously. We dashed around with buckets of sand. Then another load started on its way, howling earthwards with unspeakable menace. My companion and I dashed for a shop doorway. The incendiaries rained down. As we crouched there, two delightful young females blithely sauntered past: "Goodnight lads," they called, "and take care." And they disappeared around a corner. We left our shelter and resumed our task.

The attitude of the civilians was quite wonderful. I watched Birmingham blaze. In the evening the pubs were full, air raid or not. We choked on the cigarette smoke, raw eyed, clutching our beers to stop them spilling as the place constantly shook with the explosions. No one there took any notice other than the occasional: "That was a close one." Then we would go and take our turn with the rescue work. The cooperation and common purpose was unbelievable in anyone not experiencing it. The same in Coventry and Bristol, which I can personally vouch for, and without doubt in so many other cities. Being in the centre of a stick of bombs was not pleasant, but I soon leaned that it must not deter. It was fairly commonplace.

The nearest bomb with Woodward's name on it dropped on the sea front of Weston-super-Mare. I was flat on the pavement on the other side of the road, awestruck by the ring of blue and yellow flames round the crater on my right: arms shielding my head from the fragmented flagstones crashing down all around, while the houses on my left crumbled. My chest was congested for a month from the thud as the pavement rose and hit me: but, amazingly, I did not notice it at the time. I helped a ninety-year-old lady down from the top floor of a multi-story boarding house. The roof was lying across the side of her bed. As we clambered down the debris-strewn stairs, suddenly she insisted on going back. She took her teeth from the mantelpiece, dusted them off on her nightie, popped them in, and smiled a: "That's better." Subsequently she sent me a bible with a pound note in it.

Colin shot this pic in 1938, behind he had written "these are Assyrian Levies, the best native soldiers in the country, but funny thing though, they all have Charley Chaplin mustaches!

For a young man who had spent some years among the restricted societies of the undeveloped world, it was a wild time. We drank too much and we assiduously sought our pleasures wherever we could find them. But, although there was some relaxation of morals, there were still strict codes that could not easily be avoided without lessening self-respect: most of us knew that we needed a permanent and legally binding relationship, if we wished to be content, and if we sought to build a healthy and stable future.

Although I did expose myself to some hazards in those early days there was a nagging realization that others of my age were involved in far greater risk. We were continuously being brainwashed about the exploits of "our boys facing the barbarous Hun". But there were strong pressures on me to obtain a medical degree, for which I needed to complete two more years. And I was convinced that I had neither the temperament nor the stomach to be a competent member of an aircrew. However, a close school friend entered flying training and I was shamed into following his lead. So I applied to become a pilot. Because I was in the medical branch, and subject to that part of the Geneva Convention regarding medical personnel not being able to engage in combatant duties, I found it very difficult to transfer, and I was one of the first, if not the first, to do so. Shortly before starting my flying training I met and married the lass who still shares my life and my travels.

Towards the end of my flying training a circumstance of war radically influenced my career as a pilot. There was a grave shortage of flying instructors. It was decided to ask selected individuals, undergoing flying training, to volunteer to do additional training to enable them to become instructors. To me, there was no relish in having an airplane in my gun sights and pressing the trigger: I relished being in someone else's gun sights even less. And I could never accept that dropping bombs on women and children was a worthy manly pursuit. So when selected, I volunteered, and thus gained enormously valuable flying experience as an instructor during the first half of the war before I transferred to operational flying.

After two years as an instructor, it then seems that although the work I was doing was very important, I felt that it was not enough. As an instructor, my life lacked something. It lacked the degree of danger others enthusiastically sought. War does something to some that have yet to experience its full horror. They close their eyes and hearts to unworthy conduct and crave for the thrills of exposure to high levels of risk and, more particularly, for the adulation of the crowd such exposure brings. And my school pal had been killed flying Liberators over Tobruk. I also had the excuse that several of our cities were being destroyed and my wife and our two families were in considerable danger. So I decided, despite knowing without doubt that killing people is madness, that I should take a more combatant role in the war.

Because of the shortage of flying instructors, once again it was difficult to transfer. A fellow instructor, a close friend, and I managed it by persisting with our requests to do so. Then another circumstance intervened. There was a shortage of pilots in two critical roles: pathfinders (to guide and control the bombing raids) and 'special duties' (espionage). Only experienced pilots could be used for these tasks. They had to be selected and they had to volunteer. My friend volunteered to become a pathfinder, and I volunteered to take spies and saboteurs into enemy territory. He was shot down twice at night over enemy territory, and got back safely each time. I was more fortunate in avoiding the various forms of unfriendliness fired at our aircraft.

Halfway through my operational flying training I was sent to a unit to select a crew to fly with me: a navigator, bomb aimer/map reader, flight engineer, wireless operator, rear gunner, and another (mid-upper) gunner who would be used to dispatch the spies and/or saboteurs, as the mid-upper turret had been taken out of the aircraft we were to fly. Because I was not in the usual stream of pilots going to the squadrons, my arrival at the crew selection unit was out of phase with the arrival of the other crewmembers.

So by the time of my arrival, all the crews had been formed, and only those airmen were left who had not been picked by pilots as crewmembers. First of all, a New Zealand officer navigator approached me, asking that he become a member of my crew. His difficulty seems to have been that he was a schoolteacher, and the previous pilots he had approached had poor recollections of their school days. Or perhaps they thought he was not tough enough: if so, they could not have been more wrong. I took him on. Then two sergeant gunners approached me to join my crew. Their problem was that they had both been originally in the medical branch of the air force (one was a state registered nurse), and this again did not find favor with the pilots. You can imagine their delight when they learned that I, too, was ex-medical. Since my air force origins were similar, I could hardly refuse their request. They told me of a sergeant engineer and a sergeant wireless operator, whom I also took. In that way I started the crew. But we were still short of a bomb aimer who would be used for the map reading over enemy territory, a requirement unique to the type of work for which we were destined.

The NZ navigator told me that there was an Australian officer bomb aimer who had failed to get a crew. He was big and tough, with the insatiable habit of quoting Shakespeare. He had tended to get into fights and no one wanted him. Neither did I. I saw him around, and always avoided him when he approached me, which he often did. He was desperate because I was the last chance he had of getting into a crew until the next batch of new entries arrived in three months time. Unfortunately, I was in a similar situation: we could not locate any other bomb aimer. I either took him, or waited three months. His relief was unbounded when eventually I allowed him to get into conversation with me. I had to sympathize with his evident anxiety to crew up. So I took him on. And never regretted it.

After various tribulations we were posted to No.161 (Special Duties) Squadron at Tempsford. Our role was to take spies and saboteurs into enemy territory, and to supply them. In most cases they dropped by parachute. But some of us could also land to deliver or pick up agents. For these various purposes the squadron was divided into A, B and C Flights: 'A' Flight - Lysanders (single-engine airplanes which could land and take-off in a small space, but only take one or two passengers and virtually no equipment), 'C' Flight - Hudsons (twin-engine airplanes which could also land, but needed more space, and could travel further with more agents), and 'B' Flight - Stirlings (large four-engine aircraft which could travel great distances and carry several agents - although I never took more than three at one time). Other RAF squadrons sometimes dropped supplies to agents, and the No.138 Squadron Halifaxes at Tempsford suffered grievously doing similar work to the Stirlings there, but No.161 Squadron was the only specialist squadron used for the purpose of dropping and picking up agents.

Colin also shot this pic in 1939: he said the Assyrian Levies used to hunt Gazelles to supplement their diet.

It is not possible easily to categorize human nature when seeking to explain the conduct of nations. It is, however, obvious that ethnic ties have considerable influence, even between antagonistic nations. The strength of the underground resistance movements of the occupied countries seemed to vary with the similarity of the ethnic backgrounds. Norway with its Teutonic culture and language had many quislings and its underground was made less efficient because of this. Denmark's underground, however, seemed more widespread and committed, although my experience indicated that there was considerable German infiltration, having had on two occasions to suspect that my mission failed because of it. The Dutch had close ethnic ties with the Germans and the whole of the Dutch underground was taken over by them; it now seems that one branch of our secret service knew, but did not tell the branch with which we operated. Several of our planes were lost because of this and the crews and agents captured, tortured and executed; another criminal wartime anomaly. However, this information has been obtained from the British media: during 2000 I have received facts from a very reliable Dutch source that causes me to doubt its veracity.

The English have Teutonic ethnic ties and Hitler seemed to believe that this would render us less likely to side against him in an all-out war, a mistake that cost him dear, although there were many in England who openly favored his creed. The French have a quite different ethnic background from the Germans, and this resulted in the most effective underground movement in our sphere of operations. With great sacrifice, the French managed to create a resistance movement that tied down many German divisions and enabled our secret operations to France to function with much greater ease than elsewhere. Yet, even in France, there were 'double agents' who remained undetected until war end.

At Tempsford my crew and I flew the Stirlings. The pilots of the Lysander flight were the 'glamour boys'. They were the first to be used for 'special duties'. Whenever they landed, almost always in France, they were made most welcome. We heard that some, for a variety of reasons, stayed for several days, and because they mostly landed in the areas where the French resistance was very active, they frequently wanted to stay longer. They brought back gifts of wine and perfume and many tales of 'daring do'. They had scant respect for the pilots of the 'heavies'. One 'A' flight commander, poaching a pilot from No.138 Squadron, told him that "Any clot can fly four engines." Or words to that effect. From their published post war reminiscences, it seems that we did not exist. They broke every rule in our book. Of course, they were brave men, some more than amply proven so in other war operations. But they over glamorized themselves. 'A' flight was a haven for some who needed a rest from high risk, and for some who did not. They performed good work providing a taxi service to France. We envied them. They were the most boisterous at mess 'binges', and Air Ministry made a great fuss of them. But above all, they had a very low loss rate: only four were shot down during the whole war.

So, with the Stirlings, it was very different. There was no glamour, no fun. We took agents great distances into Europe and Scandinavia, where the enemy fighter defenses were highly skilled, brave, numerous and strong, some 'on rest' from the Russian front, and we lost several aircraft, each with seven crewmembers and the agents. 'C' Flight Hudsons and 138 Halifaxes also suffered heavy losses. Many good friends, wonderful young folk, were lost.

I started off badly in the squadron, right from my very first sortie, the second night there. In my logbook is a 'red endorsement', still treasured there despite an Air Ministry instruction to remove it. It reads: "Class of Accident - Taxied with a damaged undercarriage. Degree of Blame - Carelessness." It is there because the squadron commander acted precipitately and stupidly, before checking the facts; and when the facts became clear, not being mature enough to make amends. Had a 'A' Flight pilot been involved in a similar incident, I believe he would have received an immediate AFC. I received an immediate posting onto the 'Bad Boys' course at Sheffield, without being permitted the slightest rest after a six-hour sortie to France, and after a grueling experience. I was devastated. I resented the action taken against me, but I do not regret it. On the course I met some of the finest types I have ever had the privilege to serve with, before or since. They made my time there memorable and rewarding, and they restored my morale. Being sent on the course most probably saved my life.

I was recalled to the squadron after having completed only two of the six weeks' course, and with a good report - a rarity for Sheffield. The Tempsford mess bar, normally full at that time, was empty when I went in immediately upon my return. The senior engineering officer arrived. He told me that it was a grave injustice to have sent me away as the reason for my crash had been quite beyond my control, adding that I had been recalled because there was a great shortage of experienced squadron pilots.

I resumed full flying. One of the most wearing aspects of the job was to be instructed to prepare for a sortie, only to be told shortly before take-off, sometimes at the take-off point, that it was cancelled. This happened very frequently. We were always delighted at the time of the cancellation, only to regret it after reflection: we had to complete thirty sorties before earning a 'rest', and cancellations delayed that happy event. Also, preparation consumed a lot of nervous energy, of which there was not an inexhaustible supply. Weather caused most cancellations, but some resulted from last minute messages from agents warning us not to go. Many of the underground cells were infiltrated or taken over by the Germans. Our branch of the secret service operated a secret radio system known as 'S phones': very high frequency wireless equipment, which the Germans did not have. Agents in the territories would transmit messages in 'plain language', usually in English, which would be received by our high flying photograph reconnaissance aircraft. In this way we could learn very swiftly of last minute changes of plan.

Perhaps I should describe a typical 'sortie'. In the morning the navigator and I (and other similar pairs) would go to the intelligence room and we would be given the place on the map (coordinates/references) where the 'reception committee', up to about thirty men and women, would be waiting for the agent or agents we were to fly to them. Frequently we took a lot of equipment with the agent and that was why so many people were needed. They had to hide the equipment. The equipment comprised guns and munitions, explosives, wireless sets and spares, etcetera, sometimes food and clothing, and large amounts of local money 'borrowed' from the London held national reserves of the occupied territories. All this was contained in up to twenty four large containers, as well as large packages, all of which were very heavy. They were hidden in cellars, caves, lakes, or buried in the forests.

We would then go into the operations room and decide on which route to take, never going on a straight route because we had to confuse the enemy on the ground who were trying to locate us and trying to determine our destination. The navigator and I had the sole responsibility for deciding which route we took, and I had the final word. The intelligence officers would then inform us of the ground and air enemy forces our route took us near. They would also state whether there would be a 'diversionary' raid by our night fighters to distract the enemy and conceal our presence. Then all the crew, except the dispatcher, would attend the 'operations briefing' which informed us about the weather we could expect, the letter codes for the day, and any relevant information of activity likely to affect our sortie. At the same time, the dispatcher would go to a special building on the other side of the aerodrome, known for some strange reason as 'Gibraltar Farm', where he would meet the agents (we called them 'Joes') that we were to carry. He checked all their clothing and parachuting equipment, and told them exactly what they were required to do. In almost all cases, the agents had had some training for the work. There were women agents as well as men.

The reception committee would be waiting for us for four hours: two hours either side of the moon's maximum light. For most of the war, our sorties were confined to the nights from half moon, through full moon, to half moon. But towards the end of the war there were so many sorties to complete that we flew no matter what the phase of the moon might be.

When the time came to take off, the crew, less the dispatcher, would be taken by van to the aircraft. The senior ground engineer would pass to us any information about our plane that he thought we should have, and all the crew did their pre-flight inspections. I would start up the engines and then taxi out to the take off point after obtaining Aldis lamp permission to do so from the control tower. At the take off point we would wait until a large car, with its rear windows blacked out, arrived. The dispatcher and his agent(s) would alight from the car and then enter the aircraft. The agents were clothed from head to feet in black, unless they were to be dropped onto snow, in which case they would be in white. They were brought up to the cockpit to be introduced to me by their code names, never their real names. The code name could be anything. One night we took out three agents with the code names of Grumble, Grunt and Grind: Mr. Grumble, Mr. Grunt and Mr. Grind!

After take-off we would fly at two thousand feet until we reached our coast. Absolutely sure of our position, we would then descend to below one hundred feet. At that height we would be below the radar the Germans were using to try to locate us. If we flew above one hundred feet and were spotted, then enemy night fighters would be sent to intercept us. Because we were so low it was difficult for an enemy fighter to see us, even when flying above us. Over water, however, there is what I named the 'lane of the moon's light', a broad path of bright light stretching over the water from the aircraft to the horizon below the moon. Should we get between an enemy aircraft and the moon, therefore, we would be clearly seen in the lane of the moon's light and in considerable danger. The rear gunner always kept a sharp lookout 'down moon' for any unwelcome company. While doing this, he had frequently and systematically to search the rest of the sky for other aggressively minded companions. The dispatcher, and other crewmembers, also did this when they had no other duties to perform.

Occasionally, when we thought it safe to do so, the navigator would ask the rear gunner to drop a flare into the water. When it hit the water, it would light up, and by aligning his guns on it, the gunner could measure the drift. When he was told the drift, the navigator would calculate the wind and, if necessary, he would correct our course. Flak ships were very mobile and to fly over one was fatal. They would investigate and report any flares, so we never used more than one each 'sortie'. On the return, we did not need to navigate so accurately, so did not need a flare.

We had a positioning device known as 'Gee', but this was unreliable at the height we flew. Also, the wireless operator could 'tune in' to various stations to find their direction from the aircraft. With three or more directions, the navigator could get a 'fix'. But, again, this was unreliable at the height we flew. Additionally, agents at known locations in enemy territory could transmit signals on hand cranked sets which gave us our distance and bearing from them. However, not infrequently, these sets had fallen into the hands of the enemy. So the drift angle obtained from the rear gunner was a very valuable aid to help us navigate. Navigation was extremely difficult in those days for our work.

When the navigator told me that he estimated that we were thirty miles from the enemy coast, we became extremely vigilant, everyone on full alert for enemy aircraft. At ten miles out I eased the aircraft down on my radio altimeter very close to the sea. We had a 'trailing' wireless aerial, the end of which was weighted and trailed just thirty feet below the aircraft at the speed we were flying. The moment this touched the water, it would be indicated on the wireless operator's ammeter, and he would tell me the instant this happened. I would then set my aneroid altimeter to zero, keeping thirty feet in hand, this being a very accurate means of setting the instrument, which would be so vital to give us our height. At the height we flew, our radio altimeters were useless over land, fluctuating madly over the uneven surface.

At this stage, the Australian, who had been sitting in the right hand pilot's seat, would go down into the nose of the aircraft, and he would stay there until we had left enemy territory again. The whole of the nose had been changed into a plastic dome. He would sit at a small desk, with a tiny red (roving) light, poring over the map, fixing our position exactly. He had to be very good. Should he be more than half a mile out, we could easily fly over a flak position, and by the press of a button be blown to pieces. The rest of the aircraft was blacked out with thick curtains, and had been the whole flight. I flew aided only by the luminous dials of the flight instruments.

As soon as he saw it, the Aussie would call out: "Enemy coast ahead." White surf is easily seen at night and, as soon as we were over it, I would pull up sharply to four hundred feet and stay there for ten seconds. This enabled the Aussie to see some salient feature below us that he could find on his map and 'fix' our position. He had to get this right. It was suicide to press on without being absolutely certain of the aircraft's position. Then down we would go, below one hundred feet, to stay below radar. To confuse the defenses, we flew relatively short 'legs', selecting easily recognizable ground features over which to change course. The navigator would state the highest ground for each leg and I would fly within one hundred feet of it, thus keeping us undetectable inside the enemy's 'radar grass' (the radar ground return). Over mountainous territory, particularly Norway, this meant that we often had to fly several thousands of feet above sea level, especially when the weather was bad and the mountains in cloud, and this left us very exposed. Over the rest of Europe, when attacked by night fighters, we would get down into the surface contours. Over Norway we sought shelter in cloud, or just above the surface of the fiords.

A big four engine aircraft, flying so low at night at two hundred miles per hour, has to be handled very critically. But I was specially trained for it, and it had to be done. In many areas, to fly above one hundred feet would undoubtedly lead to our quick demise. My experience as an instructor now stood us in excellent stead.

Sometimes we were fired on from the ground, but we were so low that we were frequently away and below the line of fire before the enemy gunners were fully aware of our presence. Attacks from night fighters were markedly unpleasant. We had to 'corkscrew': to fly so erratically (but systematically) that it was difficult for the fighter pilot to align his cannon on us. Several attacks, which happened at times, could be very exhausting. Also, I would go down as close as possible to the ground as I dared and, if the fighter followed us on our erratic path, he was in danger of colliding with the ground when he tried to peer into his gun sights. Sometimes they would attack in pairs. One would fly ahead of us and drop a flare, which would light up brilliantly the whole area into which we were flying. Then the other fighter, attacking from behind, would see us clearly against the light of the flare. And sometimes a twin-engine aircraft with a gun turret on top would fly above us and to one side, firing down on us. The only defense was to pull up into him. He always got out of the way and we were gone into the darkness before he could locate us again. Had he not taken avoiding action, or been too slow, there would have been two fires on the ground! There was no sensible alternative.

We respected the German fighter pilots. It was wise to do so. We accepted that they were fighting for a cause they believed in, for a nation to which they were devoted, and folk they loved. It is never wise to underestimate such a foe. We knew they were as good as we were; and prayed they were no better.

Hopefully, but not always, we would avoid or lose the fighters and eventually reach our dropping zone. As soon as they heard our engines, the committee leader, flashing a code letter we were expecting, would shine a single torchlight at us. We sent the answering letter. I would fly over the dropping zone into the direction of the wind, pulling up to four hundred feet, ordering the bomb doors to be opened ready to drop the canisters, putting down flap, turning downwind and, after passing the lights to one side, then again into wind for the drop, keeping the circuit very tight. The Aussie would flick a switch which would light a red lamp above where the dispatcher stood by the huge hatch he had opened in the floor of the aircraft, together with his agent(s). The Aussie would direct my flying over and along the line of six lights now below us, the nearest with the code flashing light alongside. Over the line, the Aussie would flick on a green light and out would go the agent(s), into the void below, a frightening leap into the unknown. Five seconds, and then down we would drop the canisters and push out the packages. Then the rear gunner would call "parachutes open" and that part of our job was done. Bomb doors closed flaps up, down to below one hundred feet, turning into the direction of our devious way home. We were in the area for the absolute minimum time.

When we arrived back at base, we were 'debriefed' by intelligence officers. Always we were given a large mug of coffee or tea, heavily laced with sugar and delicious navy rum, for the purposes of reviving us and loosening our tongues. Then we would go to the mess hall and have the standard breakfast served to crews returning from operations: egg and bacon, with tea and toast. At that breakfast, we learned of the crews who had not returned, a sad reminder of the gravity of our situation. Sometimes it was difficult to sleep. We were grateful to be back, but dreaded what the next night might have in store.

When on the station we were either preparing for flights, or flight testing aircraft. When off duty, I would scour the countryside for food to take home to my family. I was especially successful foraging for eggs, which were a great delight to my family and their neighbors: I would take home ten dozen at a time. Always, when ever possible, I would hasten home to my wife. Our work was so secret that we did not know what other squadron members were doing. So we did not seek to know essential facts about our work and we would not have gained much information had we so sought.

The war came close to its end. Very hard work as an instructor and very stressful work as an operational pilot took its toll. I was getting nervously exhausted and I saw others who also were, some more so than I, although none of us normally showed it. One day the squadron commander sent for me. There was another senior officer with him. I was the most experienced Stirling sortie pilot available. I was to take the intelligence briefing and to allocate crews to the sorties. The sorties were of varying risk, some considerable, but one particularly so. Several Yugoslavian diplomats had to be dropped near Belgrade. It was vital they got there: they were to form an interim government before others arrived. The area was mountainous, the weather poor, German fighters were active, the Russians anticipated the move and were intent on stopping it, and there were a lot of Allied fighters around 'gung ho' to shoot something down, and rather indiscriminate about it. Several times it was stressed that it was an extremely difficult mission: I had to pick the right man.

I should never have been given the task of allocating those sorties. There were senior officers there experienced enough in 'special duties'. Why give me the allocation task? My initial assignment to Sheffield had not been forgotten, tending to keep relations cool, and I had never been favored before. Was it that they did not wish to allocate me the Yugoslavian trip themselves? I shall never know. There were about ten sorties. With all the pilots and navigators present, and my two seniors, I started on the list. First the easier sorties, to the most inexperienced. I called out each (pilot's) name and allocated a sortie code name. Then the more experienced. This one could do the Yugoslavian job, but I gave another code name. And so it was with the next, and the rest, until I was left with the dicey one. I was tempted to allocate it to someone else: it would thwart whatever machinations were afoot. And my crew had to be considered as well as myself. To be required to allocate sorties just for that special occasion was wrong. Had I been ordered to do the sortie my crew and I would have understood and accepted without question, our experience made us the most suitable. But I was left with the responsibility of putting the interests of the other crews above those of my crew, who had already done more than their fair share, and having to explain my reasons to them. They could have accused me of 'gong chasing' at their expense, but they didn't.

We never went on the sortie. It was cancelled at the last moment. The passengers decided that they would seek a less dangerous, although less immediate, means of getting there. With B Flight No 161 Squadron, every sortie was different, each a tale in itself. Some to Norway, to Denmark

and to Europe. We were never allowed to keep a record of where we had been or what we had done.

I was required to give one pilot experience of his first operational flight. We went to Denmark, entering at my favorite pinpoint, a large (Rinköbing) coastal fiord. Next night we were both detailed for sorties into Denmark. I advised him to enter at the same spot, as I intended to do, as he would be familiar with the area. He could go in 10 minutes before me. The first entry usually alerted the defenses, the danger being greater for the later entries. As I entered, his aircraft was a mass of flames, streaking over the mud flats. I reported that he was a total loss [but he survived as a prisoner of war, only one of his crew (the map-reader) being killed].

The squadron commander was transferred and replaced by another. He was shot down on his first sortie. The officer who replaced him was also shot down on his first sortie; I was detailed to break the news to his wife who lived close to the base. Such events seemed commonplace. But they distorted our judgment of the risk. Ten sorties were considered by our pilots to be the average survival rate for the Stirlings in our squadron. (One beery evening with my pathfinder friend, soon after arriving at our respective squadrons, when well in our cups, he calculated that he could last eleven sorties, and I calculated that I could last seven!) We exaggerated our losses. Unintentionally and understandably. We believed them to be fact, and operated at their level of stress.

I am forever grateful that I had an excellent crew. We went twenty eight times, each time reaching our dropping zone, plus those times when weather or unserviceability forced us to return without completing our mission. The crew were awarded two DFC's. No 161 Squadron lost two Stirlings and four Hudsons in the last two weeks of the war. I was so very pleased when the war finished and we did not have to go on our twenty-ninth.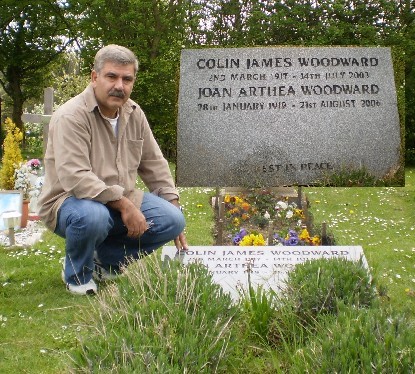 My visit to UK in May 2010
Mr. Colin Woodward 2/3/1917 - 14/7/2003
I am honored to have known Colin, there have only been a few men that I truly admired in my life and Colin is one of them.
After a long and successful career as an Aviator and a soldier, he lost his final battle to cancer. To his last days he was working towards the recognition of Assyrian service in both World Wars.
In his later years I thought of him no less than a second father.
Gaby Kiwarkis