RAB Emma SHAYIN GIWARGIS KIKKEH OBE
1887-1943
This page dedicated by his grandson
Mr Henry A. Shaheen

Shayin Giwargis KikKeh Macdasi was born in 1887 in Mata TaKhtaita (colloquially Maha Khtaya, i.e Lower village) located in the Baz-Hakkari region within the Van Wilayet in modern Turkey).
His mother's name is Misko from Enishki village near Amadiya in Northern Iraq.
When still in Baz, he studied at the school established in the village by Qasha [Rev] Daniel Yosep in early 1880s. After graduation, he was appointed teacher at the same school to teach Assyrian and English until the exodus of the Assyrians from the Hakkari Mountains during WWI. After settlement in Iraq, he joined the Iraq Levies in the early 1920s and was commissioned Rab Emma in the 4th Battalion and served 10 years.


As a reward for his services for the Assyrian nation and their cause, and for the Allies during WWI and beyond, the British, the French, the Russians and Iraq government, decorated Rab Emma SHAYIN with the following four WWI medals:
​
Order of the British Empire Military Medal (First type-1926): Awarded for merit in combat.
The French 'Croix de Guerre' (1914-1917): Awarded as recognition of French and allied soldiers who were cited for their service during WWI
The Russian Cross-of Saint George (1914-1917): Awarded for his acts of distinction under arms and as first brave act
The Iraq Active Service Medal (King Faisal's War Medal 1924-38): Awarded for service in specified military operations in Iraq.

During his service years, he wrote and contributed towards the production of a guidebook in dictionary-like form for both British and Assyrian personnel of the Iraq Levies to acquire colloquial knowledge of the respective military languages.


Personal life
Rab Emma Shayin and Family in 1929-1930
(His wife Assyat and children: Najeba, Andrious, Shlemon and baby Misco)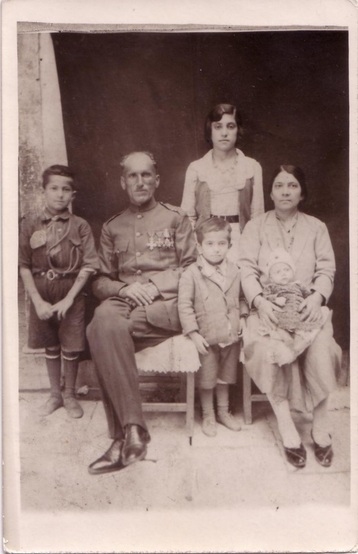 He was married to Assyat Mansor Dbet Qasha and had six children (Najeba, Andrious, Shlemon, Maria, Misko and Zkharia). He died in Nineveh (Mosul) in 1943. He is buried in the Assyrian symmetry in Nineveh.
As to-date, he has 31 grandchildren, 48 great-grandchildren and 8 great-great grandchildren (as to-date). They now live dispersed in Iraq, Great Britain, United States of America, Sweden, Austria and Australia.

Copy of the OBE Military award signed by King George the 5th
​