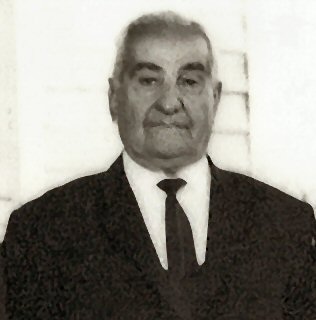 RAB Emma Baijan Peku MC
At the start the reason for the battle was that Wasir Rashid Alli Gilani allied himself with the Germans and opposed the British, Indian and other Allied troops from entering Iraq. He deported King Faisal II when he was young and still under the care of his uncle Wasir [Regent] Abd al Llah. He then ordered close to 30,000 Iraqi troops to surround Habbanyia from all sides. The British in Habbanyia at that time only had small training planes and some 100 RAF personnel, and us the Assyrian Levies we were around 600 men with one company of Kurdish Levies and one company of Arab Levies.
The ex-levies that were in Habbanyia working as civilians at the time, were called and volunteers were asked for to be armed for defence of Habbanyia, around 100 men volunteered. After the Iraqi Army surrounded Habbanyia they sent a message to the British CO that said if one plane takes off they will bomb Habbanyia to the ground. The British Air Officer Commanding [AOC] sent a message that he will reply to the demand soon. At that time the AOC called some of us Assyrian officers to his office and said to us that if our planes fly they will shoot them down, we said that we have heard the Arabs have already decided on the fate of our families by dividing our wives and daughters among them, we know this because we have an Arab acquaintance of ours who is also our spy, by the name of Hawal who lives on the other side of the river, he told us that after we are defeated our women will be distributed between the Ramadi tribes. I [Beijan Peku] told Hawal at the time that most of our women have been evacuated to Palestine and he is welcome to my house to see for himself, this he did and for his information I said he can help himself to anything from my house, he took some sugar, Tea and Rice.

After our meeting with the Air Officer Commanding [AOC] in which we made our feeling very clear that we cannot allow ourselves to be captured, we the Assyrian Levies then were spread and held positions around Habbanyia, I was stationed near a wireless station that was positioned on a horse racing course near the main Magazine and AOC's house, at the wireless station a British corporal called me and showed me large planes [Blenheim] on radar approaching from the direction of India, he said when those planes reach us that's when the battle will start.

Our own planes were spread about 4 to every squadron to fly over Iraqi airfields and bomb the Iraqi planes and petrol dumps on the ground. The first [Blenheim] squadron reached us early in the morning and the planes from Habbanyia also flew up and joined the larger planes, they flew very low over Iraqi positions bombing and machine-gunning as they flew, the Iraqi Anti Aircraft guns were so fierce they made a pattern like the night stars in the sky, this is how the battle of Habbanyia and Fallujah started.

The battle started at 5 AM, the Iraqi Army were bombing the camp indiscriminately including the civilian quarters, the plateau where the Iraqi Army positions were, was only a quarter mile from us, some positions were even closer like the village of Sin Al Dibban that was near our perimeter fence, the battle raged on with planes, Artillery and us answering with machineguns and rifle fire. We the Assyrian Levies held all positions and kept going forward for three to four days exchanging fire with the Iraqi Army. After that the British realised that the Iraqi's were hit very hard by the constant bombings from the planes so they decided to send out a company to clean up the area surrounding Habbanyia.

In Habbanyia there were two companies of the Kings Own Regiment, they went out from Fallujah Gate that was one of five roads leading out of Habbanyia and engaged the enemy in the Village of Sin Al Dibban, Sin Al Diban was heavily defended with Artillery, Machinegun posts and Armoured Cars, like I said earlier the village is very close to the camp and it lies in the direction of Fallujah, here a great battle was fought between the Iraqi Army and the Kings Regiment and as a result this regiment lost many dead and wounded, even though the Kings Regiment were brave in their attack they had to finally withdraw because of the overwhelming fire coming from the enemy, the AOC then decided that the Assyrian Levies should lead the attack from three directions, RAB Emma Stephan Nissan of Baz went out from number ten blockhouse with Machine-Gun Sergeant Lazar Adam [later RAB 100 CO parachute company] with a section of mortars from number five blockhouse that is close to Sin Al Dibban, one company went out under command of RAB Khamshi Putros Odisho of Baz and one company went out through London gate, and another company went out through the Airfield on the road leading to Ramadi, when the Assyrian Levies went out, thank God we overran all positions held by the Iraqi Army and after a brisk fire fight from all three fronts, we captured many prisoners but I can't say how many were killed or wounded.

On the side of number Ten blockhouse RAB Emma Stephan Nissan's actions were such that he awarded the Military Cross, this action caused the Iraqi Army to withdraw and all around Habbanyia were now open. I should not forget to mention that the Iraqi and German planes often flew sorties over Habbanyia and bombed the cantonment, on one occasion causing serious damage where a few Assyrian civilian workers were killed, Italian planes also flew over us and bombed us, they usually came from the direction of Mosul and Syria when Syria at that time was sympathetic to Germany,

My commentary now will be mostly on the work of the Assyrian Levies.

After the battle of Habbanyia, number two Assyrian company crossed the River Euphrates near Saglawia on the road to Fallujah, this company was under the command of RAB Emma Giwargis Shabo of Tkhuma, here number two company by the time they reached Saglawia they were very exhausted because the River was flooded from both sides and they were walking in water up to their necks for hours, nevertheless our soldiers were young and courageous and they took Saglawia from the enemy without casualties to themselves, number one company under command of RAB Emma Odisho of Baz went forward to Fallujah from the heights of Habbanyia. On all the road from Fallujah to Sin Al Dibban the rivers were flooded to a point resembling an ocean, so we all had to walk in water at times up to our necks, all that night we remained practically in the water patrolling the area and making our way forward, by morning we reached the outskirts of Fallujah and took up positions in a field full of date trees. Around these trees it was very unpleasant because many horses were killed here during the earlier bombing and the smell of rotting flesh was very strong.
Here we left two platoons for defence and two platoons made their way forward to take the main bridge of Fallujah, one of those platoons was commanded by RAB Khamshi Lazar Oshana Bne Mata and the other commanded by RAB Khamshi Bejan Peku [myself], Orders were given for these platoons to advance onto the bridge and my platoon was to take up positions facing down stream and the other platoon was to face upstream.

When we observed that there were no movement or fire coming from the other side of the bridge we advanced without incident, when we came close we found several abandoned Iraqi gun positions with no one attending them, my job at the time was to make sure that no Iraqi troops escaped from the side I was holding. Just past the bridge we came under fire from around 32 Iraqi troops, we captured most of them but some were also killed, on the side of RAB Khamshi Lazar Oshana it was calm with no resistance. Number two Assyrian company at this time also joined in the fight and took up positions on the western side of the town.

RAB Emma Odisho Natan of Baz gave me an order to go by car nine miles towards Baghdad to do a recognisance of the area, it was getting dark but we left the lights off, I left with 12 soldiers in cars captured at Fallujah and searched the area but found nothing and returned. The next morning he sent me again to do the same patrol and found nothing but on our return we found many areas held by the Kings Own regiment, we were surprised at this, it seemed they were flown in secretly to advance on Fallujah the next morning, we were challenged by the Kings Own and we explained who we were and continued on our way. On the third day RAB Emma Odisho again gave me an order to do a similar patrol but our captain Graham said to RAB Emma that tonight send RAB 50 Lazar Oshana but the RAB Emma replied that RAB 50 Oshana is ill and his platoon are standing guard tonight, I was not sent on the patrol.

This night the Iraqi Army attacked in force with around five thousand men and Tanks, before they reached here they engaged the Kings Own we met on our patrol and caused many casualties, they managed to surprise them and overrun their positions because of their superior numbers, on this night the Iraqi Army attacked Fallujah with heavy Tanks first with the aim of capturing the bridge, one heavy Tank approached the bridge but was stuck in a bomb crater previously caused by the RAF, another smaller Tank approached our headquarters near the bridge but Corporal Marcus Odisho who held the "Boys" Anti Tank Rifle fired on to the Tank had managed to stop it, from it climbed out an officer and a sergeant both wounded from Corporal Odisho's fire, after this I was ordered to counter attack into Fallujah and to the other side of the town, I took a Lewis Machine Gun section with me and another section under Corporal Odisho Bne Matta I put them on the right side of the road and a third section under Corporal Tomazo Tooma I put to defend the rear, but RAB Emma Odisho had already ordered this section to go up through the Bazzar, this direction was wrong because the road took them far to the right and they ran into a large number of troops unloading their equipment from vehicles, here there was a heavy fire-fight and Corporal Tomazo was wounded badly with another member of his section Pte Baroota, this section had no choice but to with draw to look after their wounded, Corporal Odisho from number two section was also killed with another soldier "Yalda" from Bebada Amadia, this section too had to withdraw with two dead and two more wounded.
On my side, the Lewis Machine Gun section, as soon it reached the outskirts of the town it came under heavy fire from all directions including rooftops and trenches, here Jalo Bne Rawoola was killed, Haskil of Hake from the same section took the Lewis Gun that was held by Jalo and started returning fire, Haskil from his position called out to me and said if we moved fifty yards we would have a better chance. Haskil, Corporal Oraham and myself then made our way under heavy fire to take up positions suggested by Haskil, but on our way Corporal Oraham was badly wounded in the leg, we could not go forward and again Haskil suggested we return to our original position but as soon as he stood up he was Killed.

I was with Corporal Oshana when I suggested he go back to headquarters for assistance, he made his way even though he was wounded he was successful in reaching headquarters. I was now on my own with the enemy trenches only about fifteen yards from me, but for some reason they were not firing at me but up in the air. I looked around and noticed that the Iraqi Army was moving from Fallujah and heading to their trenches on the outskirts.

Here I decided instead of risking been captured or killed and because I only had with me my revolver I will try and make it to headquarters. I started running between their trenches and firing my revolver at the same time, I was so close to some that if they were to reach out with a bayonet they would have killed me, but by Gods Grace nothing happened to me, it could have because of the smoke and dust they didn't see me or because I was so close they were afraid of hitting one of their own, I made my way to Jalo to see how he was because he was still alive at that time, I laid down beside him but nothing could be done. I got up and made my way to headquarters and met with Colonel Everet who asked me if I had seen anyone from the Kings Own, I answered that I haven't, he asked me to return to the area and try to find where they were, on the way back I ran into four of our men who were new in the Levies having only enlisted two months ago, I took these men with me and further on we came across another two new soldiers and took them with me also, nearing the area we saw four Iraqi soldiers with a Bren Gun about twenty yards from us crossing from west to East, I ordered my men to open fire, we all fired at them and killed all four.

We removed the Bren Gun and ammunition from the Iraqi soldiers and continued up the road towards a derelict school that has recently been built that had no windows or doors, when we entered the school building we found large amounts of ammunition, guns and food, it seemed that this building was used as a store for the Iraqi Army, here I put one soldier to each room and I took up a position with three soldiers in the large room facing an empty field in the direction of Baghdad and the Iraqi trenches, I set up the Bren Gun at one window and I sat on three boxes of ammunition, the three soldiers that were with me started filling magazines for the Bren. In front of us the Iraqi's were trying to leave Fallujah and go into their trenches, I started firing the Bren in long bursts of about fifteen to twenty rounds into the largest groups of soldiers, for about half an hour I continued firing and they kept on coming but after that they started moving in smaller groups, I fired the Bren so much that the barrel of my gun became so hot it turned white from the heat, but I kept changing the barrel and putting a cooler one and continued fire. After that a Corporal and three soldiers of the Kings Own came into the building carrying another Bren Gun, I seen them come in and called to them to give me their Gun because mine was too hot, this they did.

The Iraqi soldiers that escaped, tried to make their way to vehicles that were far from our position but they stopped and started returning fire, at this time Corporal Yadida Diryawoush of Ambi arrived with the Mortar section and bombed the vehicles in the distance and made them withdraw further back, the Iraqi's that were left, around one hundred, started to surrender and two Iraqi Army officers approached me with their hands up, one was Lieutenant the other a Captain, the Lieutenant said to me "we have no Assyrian officers prisoner for exchange" I said to him "you will not have Assyrian officers alive prisoner, only if they are dead". The Captain became angry at the Lieutenant and reprimands him for a stupid comment. I sent the two officers with the Corporal from the Kings Own to hand them over to Captain Graeme and to bring back a receipt to say that they arrived safely.

In the afternoon a Wassi [regent] arrived with a British General and some Trans Jordan soldiers, but before their arrival an order was given that Iraqi bodies had to be buried, our side quickly put dirt over the bodies so they are not seen. That same evening we were waiting with our prisoners to transport back to Habbanyia when the Iraqi Artillery bombed us from a fortified position, we were near the main bridge and three of our soldiers were killed including eight prisoners.

I was also wounded during this bombardment in the right arm near my hand but it wasn't very bad, the Doctor [Captain Shaw] sent for me to be evacuated to Habbanyia but I said it would be shame on me having one bandage on my arm and leaving the battle zone, Doctor Shaw said "its up to you if you want to get yourself killed don't go", we stayed another twenty days in Fallujah then we returned to Habbanyia, on my return I was asked to go see the AOC, the OAC said to me that I had done a job that will never be forgotten, he said "we would have given you the Victoria Cross but in this country we don't want to make you a target for the Iraqi's to take revenge so we will be awarding you the Military Cross.

After the battle of Habbanyia we started enlisting Assyrians from all over, including Syria and also enlisted Yezidiz and others which made our numbers swell to several thousand. Some of these new companies were sent to Iran, Lebanon, Palestine, Bahrain and all over the Middle East, there was even a parachute company formed and in them were also some Kurds, the Parachute Squadron was based in Bridisi in Italy and fought a heavy fight in Albania capturing several Germans, and also street fighting in Athens against the communist in 1945.

Citation reads;
This native officer with his platoon carried out a most gallant counter attack against the enemy who were penetrating the outskirts of Fallujah. By good leadership and great determination he set an example to his men which resulted in the enemy being driven back from the Eastern end of the town with heavy losses. He himself was wounded in the arm, while four of his platoon were killed, and five others wounded too. He took over a Bren Gun from one of his wounded men, and inflicted severe casualties on the enemy. His gallant action and aggressive spirit are worthy of the highest praise.