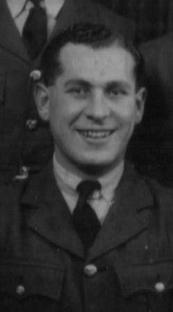 LAC Paschel "Jack" Horner

The Iraq Levies were such a smart and disciplined force and were very loyal to us RAF people and showed extraordinary courage when they were called upon in May 1941. I arrived in Iraq in the autumn of 1938 a young airman of 18 years, after a journey of three weeks in a troopship via Gibraltar, Malta, Egypt and Aden to Basra where we boarded a troop train (actually cattle trucks, 6 horses and twenty men) We traveled for thirty six hours to Baghdad where thankfully our own RAF transport services took us to Habbaniya.

And so we arrived in Habbaniya for a supposed stint of 2 years. This was of course pre world war two (1938) and life at the camp was very cushy. The camp was really like a little town, we had all the modern facilities, central heating (it got cold in Iraq in the winter). We had our own Cinemas inside and out (The outdoor one was destroyed when a missile went straight through the screen!) Swimming baths, tennis courts and football & cricket pitches, animals, even a pack of foxhounds we used for hunting. We used to start work at 7am and finish for the day at 1pm, so we had plenty of spare time everyday. My favorite pastime was sailing on Lake Habbaniya (quite a large lake, about seven miles long and very wide, The Imperial Airways Flying Boa t service to Singapore used the lake for one of its fueling stops.

May 2nd battle
So mail from home came very regularly. But of course all this changed on the outbreak of World War 2. From then onwards we got caught up in the war machine and life changed dramatically. The pilots of our squadrons were called back to England to organize the bomber command to attack Germany. We started shifting machines and stores down to Egypt to start the campaign against the Italians. Life was very hectic but we were always glad to get back to Habbaniya until the time when a gentleman called Raschid Ali (sponsored by the Germans of course) decided if he could force the RAF out of Iraq, there would probably be rich pickings for him and his cronies! And so it all built up to a point where Iraq decided to try and take Habbaniya. On May 1st 1941 early in the morning they proceeded to bombard us with Howitzers and aircraft.



Our airfield had only some antiquated bi-planes at our disposal, but they put up a magnificent fight against the besiegers. The actual runways were outside the camp and in full range of the Iraqis guns, so we had to transfer the runways to our football fields which worked quite well. We had a regiment of the Kings Own flown in and together with the assistance of the Iraq Levies we were able to hold off for a few weeks until a force of British and Commonwealth troops came to our aid.

In all this commotion was of course the plight of the civilians in the civil contingent. (Iraqi Levies and civilian workers families) and it saddens me very much to think what may have happened to so many of them.
I also hope that the fortunate ones who got to Australia etc had and have a lovely future there and I wish them well.

And now I must say goodbye, I am a man of 85 now but still have vivid memories of my time in Iraq. I did have hopes of visiting Habbaniya again but they have disappeared with all the present day upheaval. Let's hope that in the end good sense will prevail and the country will settle down to be a democratic and wealthy state that it should be.

Jack Horner.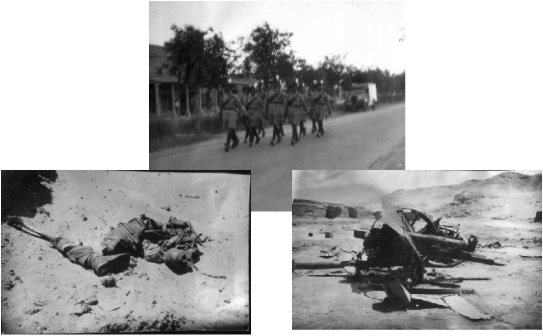 Changing of the Guard-remains of an Iraqi soldier on the plateau
-destroyed Iraqi Howitzer