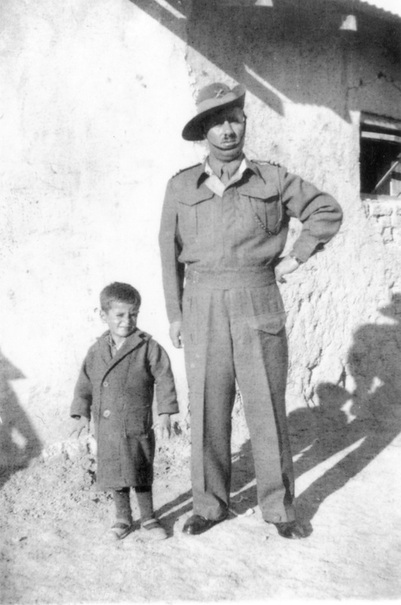 RAB Emma Sliwo Dawid

Courtesy of
Jacqueline Karp

We like to thank Jacqueline for her contribution to this website and sharing with us the circumstances that led the killing of the Assyrian Officer, and for the effort in obtaining these photographs of the Ramleh cemetery in Israel. Click on her name to visit her website...Gaby kiwarkis

Palestine;
A Jewish Brigade, the "Jewish National Military Organization" [NMO] was formed in 1931 to fight for the right to form a Jewish State in Palestine, condemned as terrorists by the British they operated until 1948. The "Irgun Zvai Leumi" [in Jewish] attempted to "frighten" the Mandatory Power into accepting Zionist demands using military force.
By 1944 the NMO forces had grown powerful enough to change their tactics of hit and run to launching prolonged attacks against defended instillations. This new technique came into action on the night of September 27th 1944, when strong NMO forces deployed at strategic points throughout the country converged on four widely separated police strongholds and conducted battles that lasted in one or two cases until dawn. At the fort of Beit Dajan, near Jaffa, the police garrison had to withstand attack from shortly before midnight until early morning. A large NMO force launched an assault on Beit Dajan from four directions and broke through the outer barbed-wire barricades. After two hours' intense firing from the police, the NMO unit was driven back beyond the defence perimeter. Other NMO forces brought up mobile floodlights, which they beamed on the walls of the fort. A second wave of NMO gunmen again penetrated the defence area throwing explosives at the building. After concentrated and prolonged fire from the besieged, the NMO reluctantly gave up the struggle and retired.
While Beit Dajan was under siege, a second NMO force, disguised in khaki uniforms, was attacking the police fort of Kalkilya in the Arab district of Tulkarm. The NMO unit, armed with hand-grenades and bombs, made determined attempts to break into the building. But Kalkilya was well-defended. After several hours the attackers were forced to withdraw.
The third police stronghold to be attacked that night was Katra, near Gedera. Here, the NMO force detailed for the assault succeeded in breaking through both the outer and inner defence lines. The Orderly Room was set on fire, the flames sweeping beyond into the central part of the fort. Smashing the doors of the station armoury, the NMO force looted the police rifles and machine-guns and retired before any effective resistance could be put up. The Rehovoth Fire Brigade, summoned quickly to the scene, fought all night to extinguish the flames of the fort. Meanwhile, the NMO gunmen, moving northwards across country came upon an army vehicle which had run on to a mine. Two Allied soldiers [Iraq Levies] were held up and ordered to hand over their arms. The officer in charge RAB 100 Sliwo David refused and was killed by a burst of machinegun fire, the driver managed to escape and report the incident.