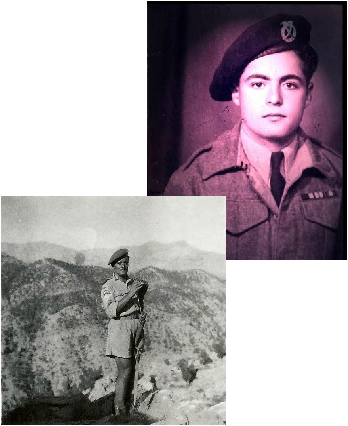 11347- Parachute Sergeant Benyamin Shlimon

GK - What year did you join the levies?

Sgt - I joined the Levies in 1942, I was only 15 years old. In 1943 I joined the parachute company and did my parachute training in Habbaniya. I jumped six times there and then we were sent to Palestine. We were attached to the British 11 parachute battalion. There we did 12 jumps, six day jumps and six at night.
In Palestine we did an exercise where we had to jump and force march for 25 miles. At the end of the march, my Company commander and an Assyrian officer pointed me out to a Brigadier. The Brigadier showed me a newspaper article from England; It said I was the youngest paratrooper in the whole British army. I was only 16. Then we went to Cyprus and from there we were supposed to invade an island but it was cancelled because the first three British paratroop companies all landed in water and most drowned.
We were taken back to Palestine and at the beginning of 1944 we were taken to Napoli in Italy. There was no fighting there it was only a base camp, the British had already secured it. We were attached to the British Marine Commandos. In October 1944 we invaded Albania.

GK - Can you tell me about Albania?

Sgt - In October 1944, we went to Albania by ship with the British Marine Commandos. There were 200 of us in the first Assyrian parachute company and of course thousands of British commandos. On the 12th of October at about 4am we were ordered into landing crafts. I could see the British ships firing at the Germans on land and the Germans firing back. It was raining and very cold.
In the landing craft they gave us some rum to drink, not much, about half a glass. It felt good and warmed me up, the trip took about two hours. When we reached the shore we faced a range of mountains, we knew we had to go straight up! The Germans had been there for four years and they were well dug-in and they were SS not regulars. The first attack was a hard fight, all up hill.
Although I carried the section machinegun, the Bren, the fighting was mostly in the trenches, you couldn't swing a rifle in there we only used our bayonets. Our Assyrian company captured 96 Germans, we killed many more. We had 11 dead from our company and 35 wounded. We stayed there for 12 days, until we cleared the whole area, then we were relieved by Polish troops.

GK - You mentioned the Germans were from the Elite SS?

Sgt - Yes, it was a hard fight, but we were better, all our side were Commandos.

GK - Can you remember a specific personal experience, from that battle?

Sgt - Yes, I remember once I could hear the bagpipes playing just before the attack, you know how the British like to play the bagpipes; you had them in the Australian army. I was listening to them when our major yelled out CHARGE! We charged up this hill. I was running so fast I fell into an enemy trench. I saw a German come out with his hands up. I had a Bren gun but I could not use it there was no room. So I pulled out a grenade and yelled out HANDS UP! HANDS UP! Six Germans came out with their hands up on top of their heads. I remember one of them was a corporal he spoke English very well. He said to me "please my wife is English, please don't shoot", there was a few of us then.

We had to calm them down, they knew we weren't English, they were very scared. We told them nothing will happen to you we will take you back to headquarters. He took out pictures of his wife and children and showed them to me. We told him we don't kill prisoners we would not harm them. Later it took us a long time to explain to them who we were.


GK - After 12 days in Albania where did you go?

Sgt - We went back to Italy. We rested for 20 days. After that we were told we were leaving for Athens. I remember it was the day before Christmas 1944, It was at night when we left. There were including us about 30,000 British paratroops. We knew before we left it was going to be a difficult fight and all street fighting, it's not like the enemy is in an open field, in a city you never know where the bullet is coming from. We landed at Athens Airport, the Greek Army luckily guarded the airport. Later we were told to advance into the city, there it was house-to-house, street-to-street, fighting all the way.

GK - Who were you fighting?

Sgt - We were fighting the Greek communist forces. Like I said we expected a hard fight and we got it. One night we lost two Assyrians and our Lieutenant Peterson. It was very dark when we started crossing a road when a machinegun opened up. The rest of us pulled back just in time. We could not reach our men. Every time we tried the machine gun opened up. They died that night.

GK - Can you remember another incident that involved you personally?

Sgt - During one night I was standing next to my cousin Sergeant Major Giwargis Zorzan, when he was shot by a sniper. He died right next to me. The snipers kept firing, I saw where they were in a house not too far from me. I got very upset my cousin practically died in my arms, I was only 16 years old, I opened up with my Bren and I emptied four magazines into the house. I didn't wait for anyone to surrender, I rushed the house and threw grenades inside. I hurried inside, but they were dead. There were two snipers lying on the floor, what can I say I was very upset.

GK - How long were you in Athens?

Sgt - We were there about one month until we cleared it all out. Of course it wasn't just us there were 30,000 British commandos. Let me tell you something about the British commando, there was nothing they could not do. Just one commando can drive a truck, clear a mine field, drive a tank, he can use any weapons you give him and most important of all he never refuses an order. If one man is ordered to attack 1000 men he will do it without question. They were much better than the SS.

GK - Were there Assyrian officers in your company?

Sgt - Yes, there were RAB 100 Lazer Adam, RAB 50 Shlimon Boku, officer Awia Yacou, officer Odisho Yalda. We had six Assyrian officers. Our company commander was Major Hudson, second in command was Captain Philips.

GK - After Athens where did you go?

Sgt - We returned to Italy, then from there back to Habbaniya.


My grandfather had said they used to jump from 350 feet. Tell me about jumping from that low altitude.

Sgt - Well, you know yourself, you jumped, the lower you are the more dangerous it is, from 350 feet you don't carry a spare chute as you don't have time to open it, if something goes wrong you die, simple as that, plus we had special training we did not stay in the air for long. As soon as the chute opens we pull down from one side to come down fast, then just before we hit the ground we release it, that causes it to brake.

GK - Do you remember your first jump?

Sgt - Yes, it was in Habbaniya, we jumped from a biplane through the bomb bay doors on the floor. In Palestine we jumped from a DC-3.

GK - What happened after you returned to Habbaniya?

Sgt - We were there until 1947, then the parachute company was disbanded. I was put into number one company Levies until 1955 when the whole force was disbanded. I joined the Iraqi Army as a sports sergeant but didn't like it, I left after two years.

GK - One last question. Do you regret joining the Levies?

Sgt - No, absolutely not. I wanted to join, we all wanted to join, we were all volunteers and we wanted to go to war to give Assyrians a name! We wanted to show the world who we were, that's the same reason why I marched in Sydney this year in the ANZAC parade, to show them I'm still here!