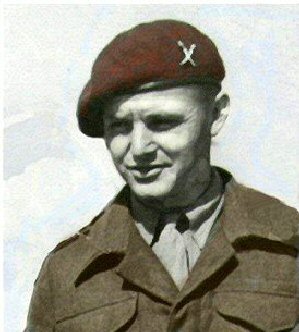 Major Guy Edward Charles Hudson OBE

1st Parachute company commander
This page is dedicated by his loving wife Pam and is courtesy of his sons Mike and Peter Hudson.
Guy Hudson was born on November 8, 1912 in the British Consulate of Iquiqui, Chile, where his father was British Consul.
Following his father's death in 1914, his mother returned to England, and Guy was educated at Tonbridge School in Kent.
After leaving school, he worked in London for a time, and took up a commission with the Territorial Army, before leaving England to fill a post on a cotton scheme in Sudan in 1936.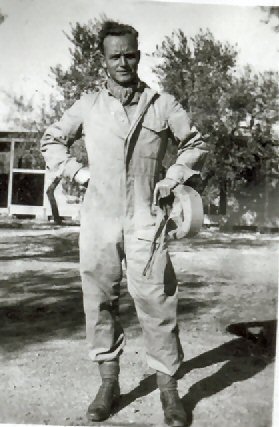 Major Hudson in Para jump suit.
At the outbreak of war, he joined the Sudan Defence Force, but returned to England in 1940 as captain in the Royal West Kent regiment stationed on the south coast. During this period he married Pam Hoblyn, and they were to remain together until Guy's death in 1992. Guy had become a proficient speaker of Arabic during his time in Sudan, and this was partly responsible for his being seconded to the RAF Levies in February 1941 in Habbaniyah.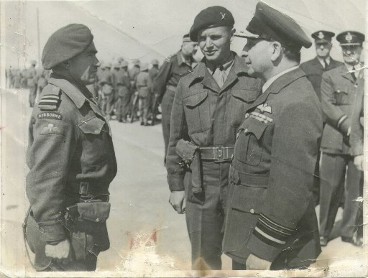 From left- Assyrian Coy Commander RAB 100 Lazar Adam- British Coy commander Maj Hudson - General Robinson.
He was given the job of recruiting a company of allied fighters in Iraq and Baluchistan, who were to be trained as parachutists. It was as commander of this company, a highly mobile and flexible intervention force, made up chiefly of Assyrians, but also of Kurds and Baluchis, that Guy subsequently saw action in Albania (Sarande) and in Greece, during the allied push back into Europe in 1944. He was reported missing in Athens, mentioned for bravery in dispatches and awarded the Military Cross, though because of an administrative error it was sent to his brother, George, who had exactly the same initials, but who had not seen active service.
Following the war, Guy and Pam returned to Sudan in 1946, and had two sons, Michael and Peter. Following independence in Sudan, Guy worked in sugar in British Guiana (Guiana) from 1956 – 1958 and then became manager of the Abyan Cotton Board in Aden (Yemen), where he remained until 1965, being awarded the OBE by Her Majesty the Queen for his services there.
​


He became a preparatory school teacher in 1965 at the school in Tonbridge where he had been a boy: Yardley Court. He was not an academic, but made children love learning. He used to say that he had to try and keep one week ahead of his ten year-olds in terms of knowledge, because he didn't know anything himself! Pam became housekeeper and, subsequently, secretary to the Head Master. Sadly, Guy developed Alzheimer's disease before reaching retirement. Pam nursed him with complete devotion until medical care became inevitable. She still lives in Tonbridge, takes a keen interest in old friends, in politics, in her local church, and in her eight grandchildren. Sport was a great love. He played rugby for the Harlequins and the Barbarians, and had an England trial in 1934. A lifelong passion for butterflies, which he collected, bred and photographed right up until his last years, a love of children, and especially of his adored wife, Pam, must be mentioned in the life of this unique man.

Guy seated second row center to his left RAB 100 Adam Lazar, to his right RAB 50 Shlimon Bukho.

Guy was a modest, Christian man, who was greatly respected and loved by those who came to know him. He lived by a set of strict but simple rules, and had no interest whatever in material things. He also had a deep respect for other cultures and beliefs, and was angered by sectarian attitudes whenever he encountered them. He believed in a brotherhood of man and was convinced that God loved all men equally, regardless of their colour or of their creed. His experiences during the war years certainly contributed to this position.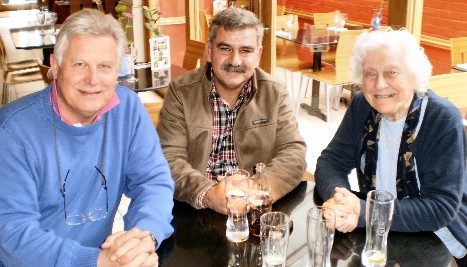 During my trip to UK in May 20010 I met up with Major Hudson's wife Pam and his son Mike, they were both wonderful hosts, a day I will never forget,We met up in Seal Village at St Peter and Paul Church where the Major and Pam were married and where he is buried [below].