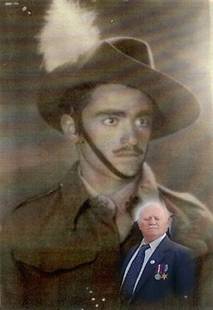 Pte Yacoub Marcus

GK - When did you join the Levies?

Pte - I joined in November 1942 in Habbaniya, I was 17.

GK - You are from Syria why did you join in Habbaniya?

Pte - Well I was only 16, I stole 25 Dinars from my father's money box because I wanted to go to Habbaniya to join the Levies. Three of my friends and I ran away and walked to the border then hitched a ride into Iraq. We walked some more and reached Mosul. In Mosul I saw a friend of mine standing near a bridge, when he saw me he asked what I was doing there and I told him I am on my way to join the Levies, he said he will come too.

We got on a bus and headed for Habbaniya, on the bus a woman called out to me in Assyrian she said "Come here boy what are you doing here?" I told her my story and she said to us to sit with her until we reach Habbaniya and if anyone asks who you are you say you are my sons. When we reached Habbaniya an Iraqi officer came up to us and asked who we were and the woman replied "they are my sons". He told her she was lying and started to take us away, the woman screamed and yelled something in Assyrian, a Levy Sergeant who was close by came up to her and asked her what the matter was. She told him in Assyrian and the next thing the sergeant pulled out his pistol and pointed it at the Iraqi's head and said if you don't release them I will kill you, the officer then stepped back and let us go, the sergeant escorted us to Habbaniya station through Falluja Gate. When I got there, I saw thousands of Assyrians waiting to join, luckily I was recognized by an officer who knew my father, he helped me enlist. I trained for three months, and then I joined the signals squadron.

GK - Where was your training in the signal squadron and what was your job?

Pte - My training was in Iran, I was there for three months and my job was a wireless operator. I had to learn to communicate with other operators from other companies.

GK - Were there any markings on your uniform that identified you as a wireless operator?

Pte - Yes, I had a blue patch on my arm that identified me as a [WP] plus the color of the patch was important, mine was blue that meant I could receive and send signals in English, if you could not communicate in English you had to have a red patch.

GK - Were you familiar with Morse code?

Pte - Yes, I could accept 25 groups per minute.

GK - Where did you go after Habbaniya?

Pte - In 1943 we went to Palestine, there we served until 1944. In Palestine we had a problem, one Assyrian officer was killed when a Jewish group held him up. He refused to give up so they shot him. When we heard this all hell broke loose, the levies wanted to go into town and take revenge but the English officers stopped them, so we wireless operators sent a signal to our parachute company who were further away and they went into town to to take revenge they left us alone after that, we were there until 1946 then we returned to Habbaniya I was there until 1948 until I was discharged, then I returned to Syria.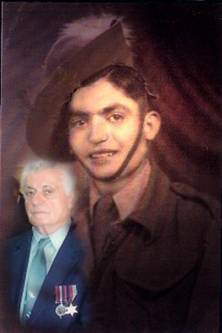 4252 ZAYIA KHOSHABA ISKHAK 1942-1946

I joined the Levies in Syria in 1942 I was 17 years old, we left Syria by train to Habbaniya. After my initial training, about three months, I joined the 16th Signal company, from there we were sent to Palestine and stayed in Akeer for three months at 19MU [supply depot] and then to Gaza at 129MU, our commander was Captain Young.

In April 1944 I had an Appendix operation, they took me to IGH [Indian general hospital], I stayed in Hospital for 19 days but I should have stayed for four days because in hospital they made a mistake, they operated on me twice for the same operation, this is what happened;

The hospital recovery room was a large tent, my bed was close to the opening so it was very cold at night, in the bed next to me was a Greek guy and he was in for the same operation. I was first to have the operation and three days later when they took him for his operation I asked for his bed because it was warmer there. They put me in his bed but they forgot to change the medical sheets that hang off the beds, so his papers became mine and mine his so my papers now say I need an operation, so this Indian orderly comes in and sticks a needle in my arm and takes me to the operating room, I didn't know what was going on I was drugged by this time, so this Indian Doctor opens me up and "surprise" doesn't find anything, but operating twice in three days is dangerous and I got very sick and my wound would not heal. So they put me on the DI list [danger list]. I would not recover in that Hospital they fed me Japarties every day, so they sent me to stay in the King David hotel in the City, from there I was driven to see specialists.

I was there for six months then they returned me to my unit, but by that time all our units were coming back, in 1946 we were sent back to Habbaniya and in 1947 we were discharged and I returned to Syria.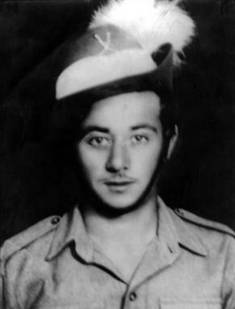 1950--Pte Seroja Yaghoupour

I joined the Levies in 1950, I was in the 3rd Squadron, my O.C. was RAB 100 Nimrod and my instructor was Cpl Giwargis.

We were in peacetime there was no war but unfortunately soldiers still die in training. We lost my instructor Cpl Giwargis and Pte Dinkha a soldier from my platoon on a night river crossing exercise. We had to cross a river using a rope tied to a tree at one end and held by Levies at the other end.

Six were ordered to cross at the same time, they were in full battle gear and were very heavy. A strong current started pulling them down river, the other Levies could not hold them, four managed to swim out but we lost two, we found them the next morning washed up on the beach.

I joined the Levies to learn a trade but here were not many opportunities to do that at that time, I served for two years.